Mallorca, Spain
PortBlue Club Pollentia Resort & Spa
PortBlue Club Pollentia Resort & Spa**** has a 3,000 m² Spa dedicated to the care of your well-being and balance. An impressive space that consists of three floors and has wonderful views of the bay of Pollensa.
In the Ocean Spa & Wellness you will live a unique and relaxing experience in a peaceful environment thanks to magnificent facilities with spa circuit: jacuzzi, saunas, waterfalls … as well as a wide range of personalised massages, facial and body care treatments and beauty rituals. All this so that you release the tensions of the day to day, improve your health and balance body and mind.
Access to the SPA is reserved for guests over 16 years of age and is free of charge for 90
minutes per day for bookings made directly with PortBlue Hotel Group. If you would like to enjoy more time in this oasis of calm, please ask for our special prices for guests at the SPA reception.
Discover the Ocean Spa experience
Generic equipment and services
3000 m² de Spa
Water circuit
Jets and waterfall
Bubble area
Jacuzzi
Footbath
Hot stone
Sensations shower
Contrasts area
Sauna
Steam room
Gym
Ice cave
Nudist sauna
Sea view relax
Solarium
Featured facilities
Discover all its facilities
The Portblue Club Pollentia's Ocean Spa & Wellness has different spaces, such as: hydrothermal circuit with jacuzzi, waterfalls, saunas, contrast area … It also has an exclusive treatments area with wonderful views, both to the Bay of Pollensa and to the Albufera.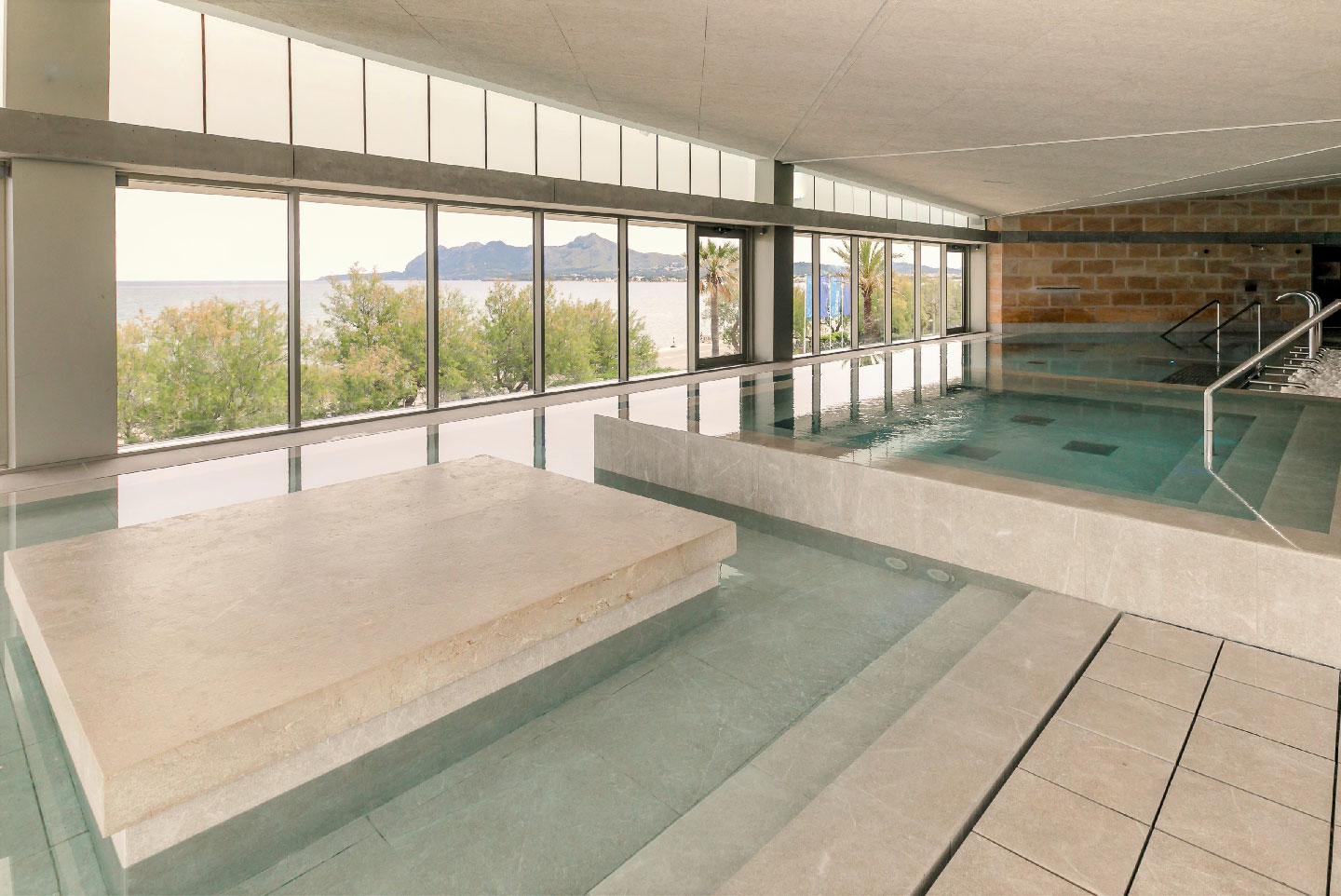 Jacuzzi
In our water area you can find the relaxation space par excellence: the jacuzzi. Its comforting bubbles will make you get rid of all the accumulated stress.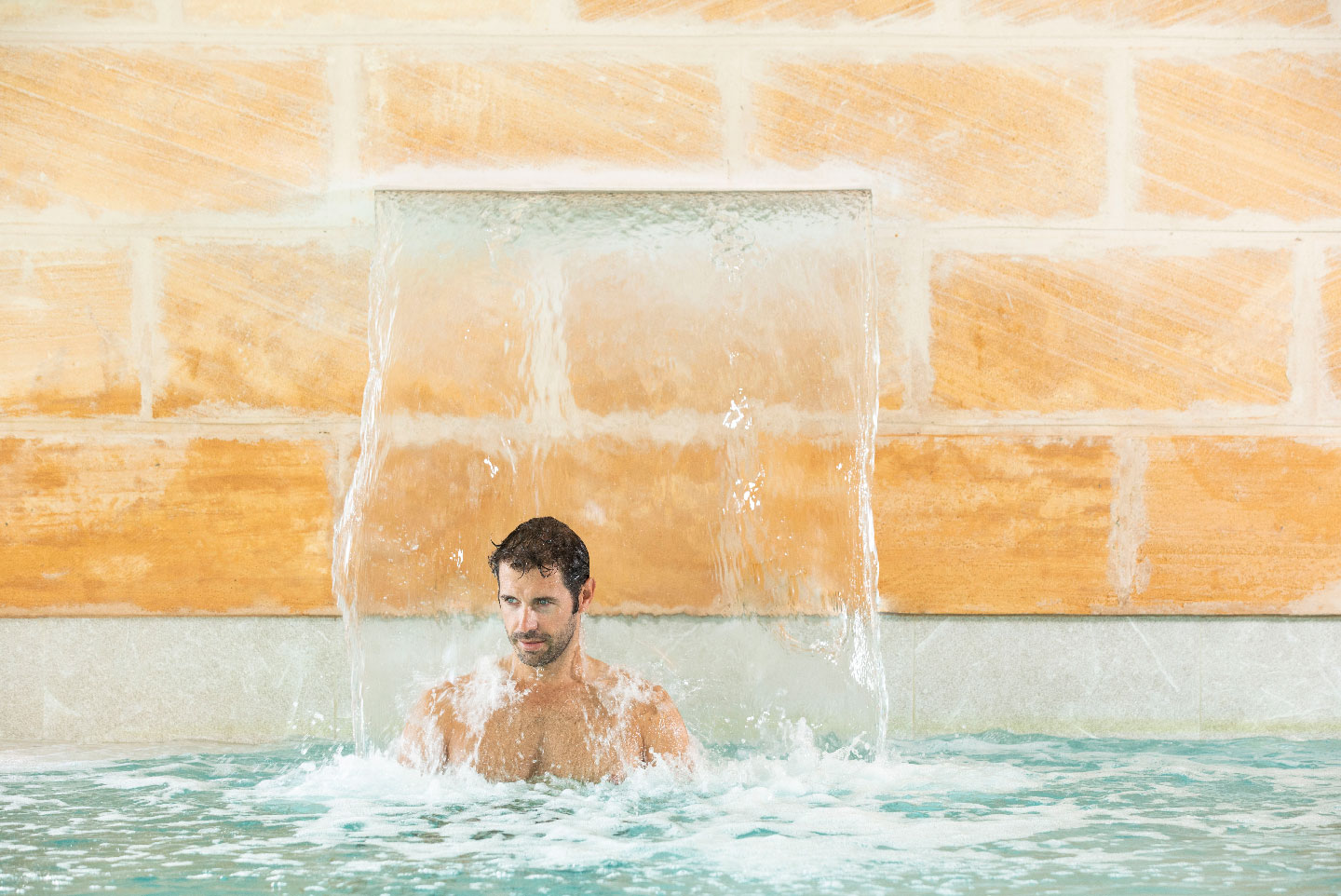 Dynamic jets
An essential place within our water circuit are the dynamic jets, whose pressure frees the body from stress and offers a healing experience. In addition, they help the proper functioning of the circulation.
Hot stone
The water area also comprises a hot stone area. Hot stone is very beneficial for certain parts of the body, such as the lumbar or sciatica, which are usually tight due to daily activity and routine.
Sunrise
Not your typical service, but it certainly has wonderful benefits to achieve a balance. Watching the sunrise in our spa is something we can't describe in words. You must live it. You can check times and dates at the Spa reception.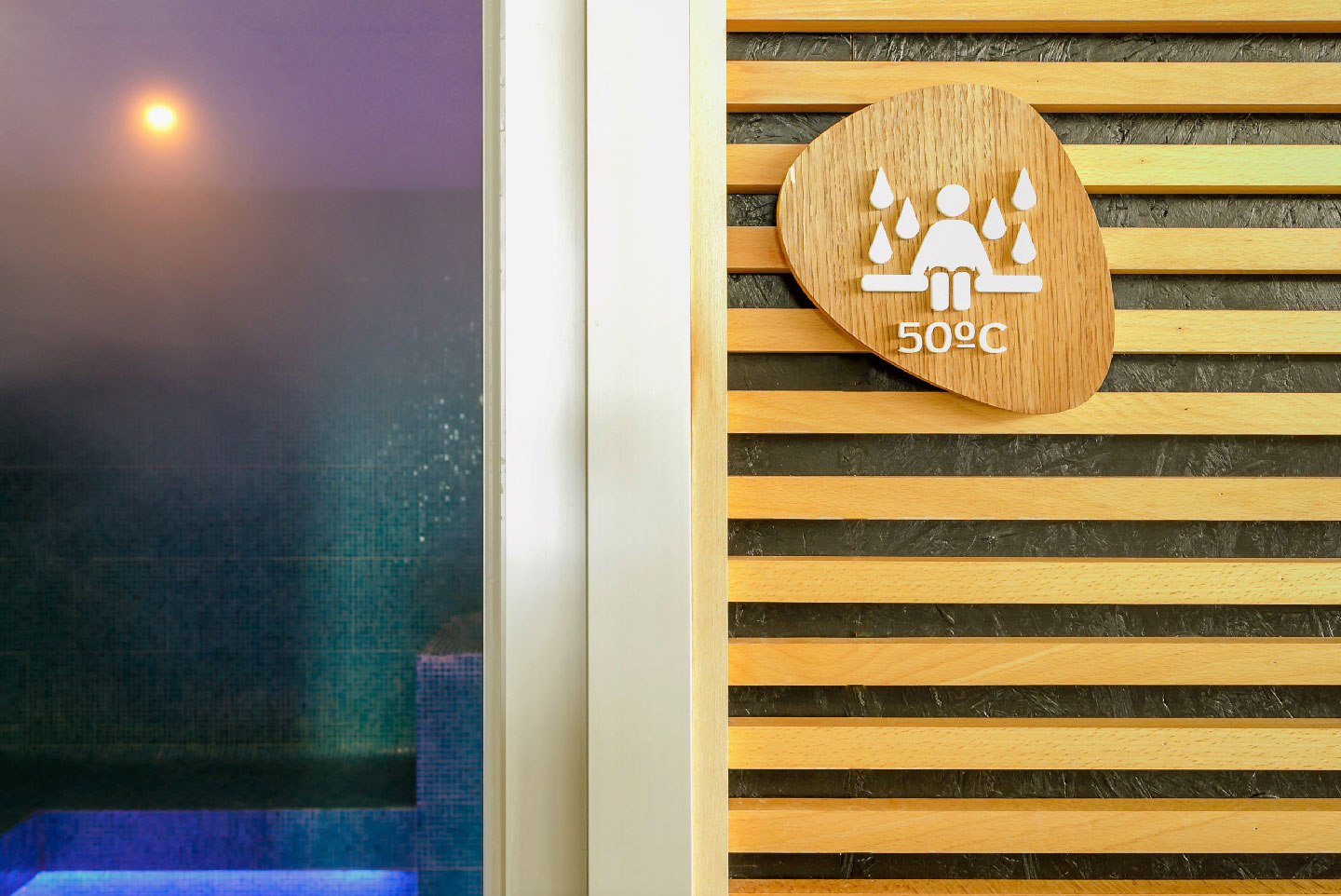 Steam room
The Greeks and Romans already knew its endless benefits so it is a key element in our Spa. Our steam room is fantastic for cleansing the skin, especially suitable for cleaning pores, while providing extra relaxation.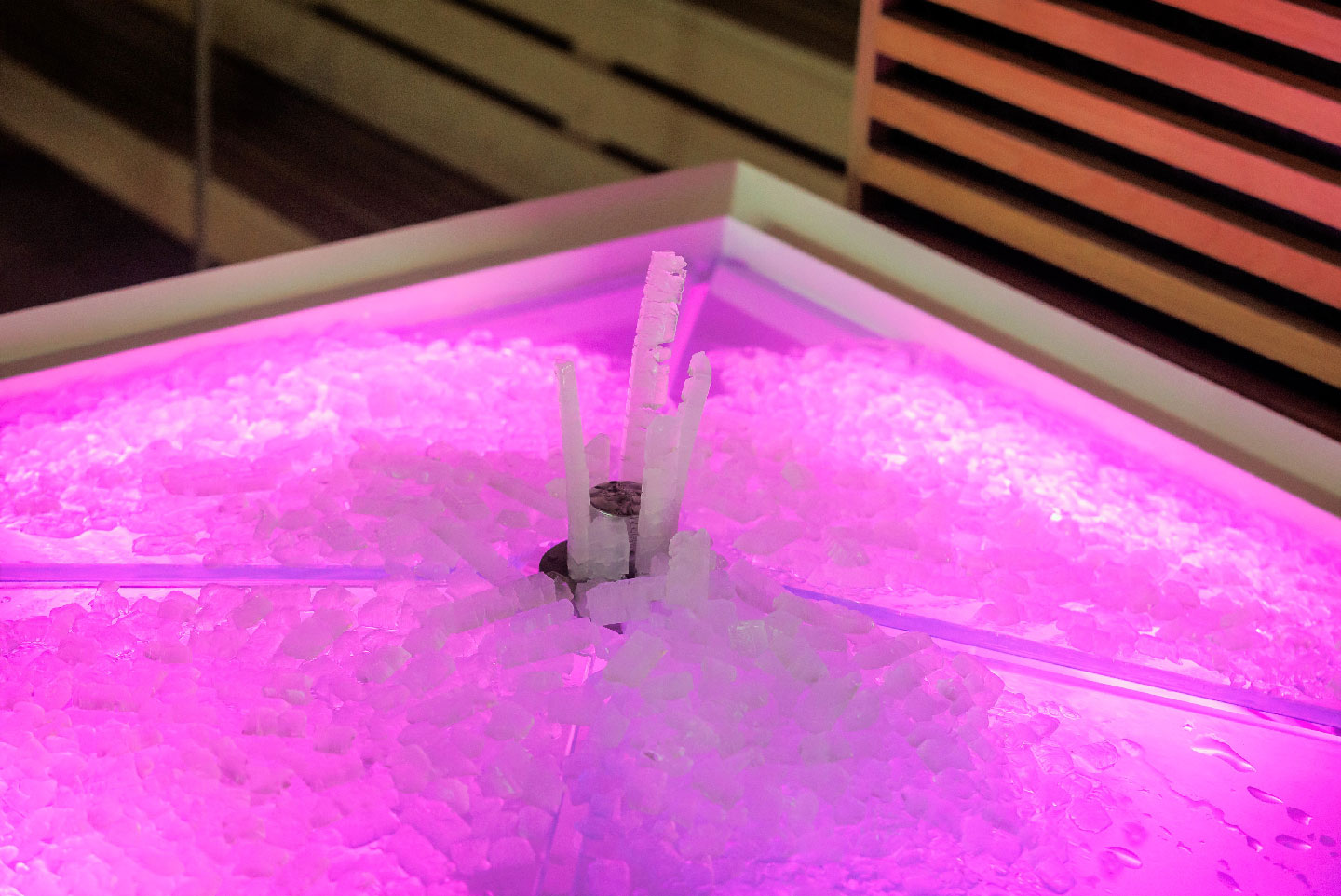 Ice fountain
The combination of cold and heat through contrasts benefits circulation and firms the skin. Without a doubt, you will feel like a new person.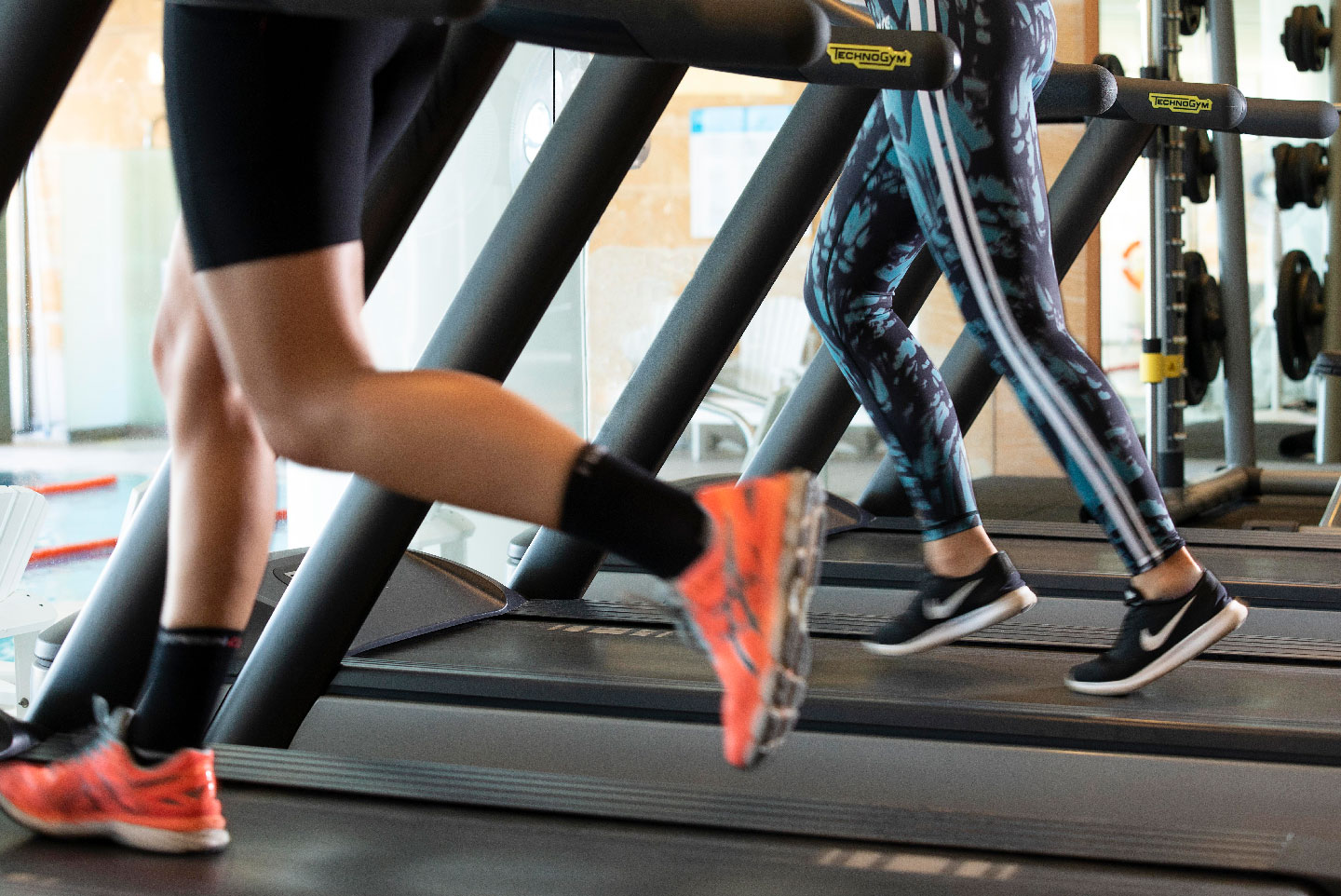 Gym
Our indoor gym has top-of-the-range machines, as well as a semi-Olympic indoor pool and an outdoor pool. Everything you need to stay in shape also during your holidays. Access to the gym is restricted to those over 16 years of age.
Swimming pool
Swimming is one of the healthiest and most comprehensive sports, which helps free our mind while keeping us in shape. In our semi-Olympic pool you can unload all the tension while performing one of the most healing exercises.
Relax Zone
Enjoying the most spectacular views of the Bay of Pollensa while relaxing becomes an unparalleled experience. The breath-taking sea and mountain views complete an unforgettable Spa experience.
Book now with the best advantages and enjoy the best price guarantee
Book now
Treatments
Find the perfect treatment to achieve your well-deserved well-being
We are dedicated to you, your health and well-being. And we do it through our treatments: our team of professionals put all their experience and all their care so that you feel good inside and out. All our treatments are carried out with top quality products and with the most innovative techniques.
Aromatherapy
Mens Sana in Corpore Sano. Using smells to achieve well-being, both body and mind, is something that Chinese, Hindu, Egyptian, Greek and Roman cultures have been practicing since ancient times and that we wanted to incorporate into our Spa, since its benefits are immense.
Facials
Each skin needs a type of treatment, so we analyse each case in depth for a bespoke service. All our treatments are performed using natural ingredients that manage to brighten the skin while cleansing and moisturising.
Reflexology
Stimulating reflex points. It is an ancestral and natural technique based on stimulating various key points of our foot that connect with organs of our body. Undoubtedly, one of the most effective treatments that exist to provide balance and generate well-being.
Beauty and skin care
With the best treatments. We moisturise the skin of your body and take care of it in an effective and complete way. The products we use in these treatments are specially chosen to maintain healthy and beautiful skin.
Sports massage
Healthy and recovering. Sports massage is a physiotherapy technique aimed at the athlete that aims to improve muscles and sports performance, accelerating muscle recovery after injuries and preventing them from occurring.
Hairdresser's
The best for your hair. The best professionals to cut, wash, colour or style your hair. Treat yourself to a makeover and debut a new hairstyle.
Contact
+34 971 54 62 00 (ext. 8303)
spa.clubpollentia@portblue.com