The season kicks off!
The favourite part of the year for sports enthusiasts is about to begin
Book your Maris Cycling or Village Plus Cycling Room with up to 30% off
Enjoy the stay you've been looking forward to so much.
Club Pollentia & Spa Hotel will be open from February 17, and if you love sport, you're very much in luck, as we have the perfect facilities for you to enjoy the most active stay: tennis courts, football pitch, basketball court, diving and cycling centres, a semi-Olympic pool, and much more!
*10% discount at the PortBlue Club Pollentia Resort & Spa Hotel in a Maris Cycling and Village Plus Cycling Room, valid for bookings made from January 24 to February 28 and stays from February 17 to April 20. Discount with its own rate code. Members of our BeBlue loyalty programme can add the extra discount to their loyalty discount.
Book now
Cycling Center
Your hotel for cyclists in Majorca.
At PortBlue Club Pollentia Resort & Spa we really love this sport, therefore we have provided the hotel with all kinds of services and facilities aimed at pedal lovers.
From very comfortable rooms with balcony or terrace in which to leave the bicycles to access to multiple services and advantages, such as our garage and workshop with washing area, our sports massage service or the carbs and nuts buffet service.
Equipment and services for cyclists:
Garage for bicycles, workshop and tools
Washing area
Professional bike rental*
Complimentary 90 min. daily access to the Spa
Access to the gym
Sports massage*
Carbs and nuts buffet*
In-room welcome gift upon arrival
* on request and subject to availability
Formentor route
The first cycling route that you have to try once you reach the island is the climb up to Formentor Lighthouse, the outpost at the end of the beautiful Serra de Tramuntana Mountains, declared a World Heritage Site by Unesco in 2011 and a source of inspiration to many artists who have admired and paid tribute to its scenic beauty. Sunsets with which everyone who visits at some time in their life never fail to fall in love.
The start of the route can be from the entrance gates to PortBlue Club Pollentia Resort & Spa, and from there the route stretches for 24.9 km and takes just over an hour and a half.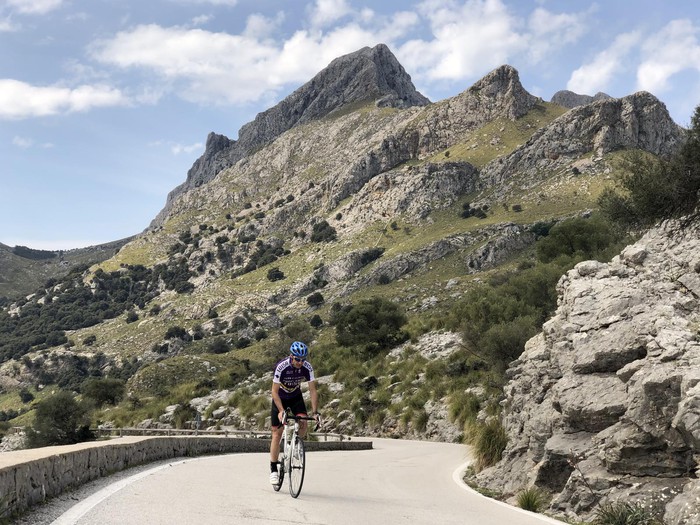 Coll de Sóller route
The second route you must not miss is the climb up the Coll de Sóller. In the 20th century this route was unavoidable for anyone who wanted to visit Sóller, as it was not until 1997 when the famous tunnel was opened and visitors could avoid having to travel up and down the mountains and just drive through the tunnel to reach the town of Sóller. That's why the Coll de Sóller is no longer used by cars, making it the ideal route for cyclists who want to discover this beautiful area of the magnificent Serra de Tramuntana Mountains.
The start of the route can be from the entrance gates to PortBlue Club Pollentia Resort & Spa, and from there the route stretches for 62.6 km and takes just over three and a half hours.
Maris Cycling Room
Maximum comfort
Warmly designed, the 35 m2 Maris Cycling room can accommodate up to 3 people. Comfortable and functional, they have two large beds and a balcony furnished with tables and chairs, with privileged views of the resort, ideal to enjoy the hotel setting. You can relax in its bathroom, recently renovated with everything you need for your comfort.
Book now